The equipment contained in this kit allows for the creation of preservation and access copies of cassette tape and CD audio content for greater visibility, and to minimize the need to handle and play from the original analog format, thus prolonging its life. 
Audience
The kit is designed to be used by staff at libraries and cultural heritage organizations that wish to digitize audio content stored on cassette tapes and CDs in order to extend online access to audio content held in their collections, and contribute to the Plains to Peaks Collective (PPC) (and by extension the Digital Public Library of America (DPLA)).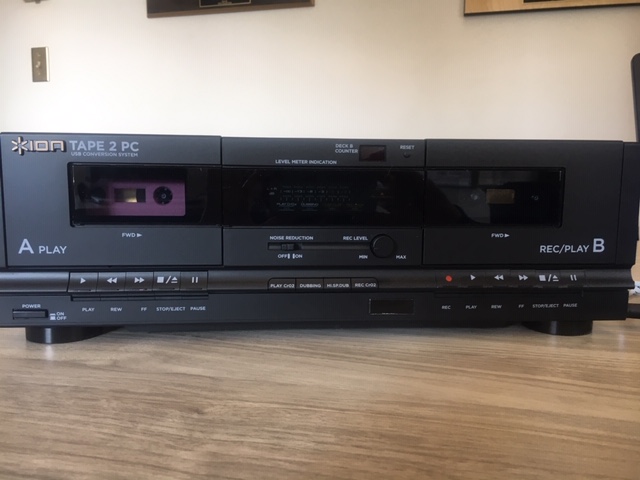 Contents
1 1" white resource kit binder containing:

1 gold key-shaped USB flash drive containing printable documents
1 binder pouch containing EZ Vinyl/Tape Converter software CD
Tape 2 PC Quick Start Guide

1 Clipboard
1 Clear Plastic Pouch containing:

1 USB Cord, labelled for use with Tape 2 PC Converter
1 USB Cord, labelled for use with External CD/DVD Drive
1 RCA Cable, for optional use with external speakers

1 Tape 2 PC Converter
1 External CD/DVD Drive
1 1TB External Hard Drive (with case)
1 Laptop Computer
Laminated Reference Guide

Unpacking & Repacking the Kit
Downloadables
Further Reading
Digital Capture & Digital Audio Preservation
Vendor Recommendations for Digital Audio Capture & Preservation
Documentation
Examples of Oral History Release Form, Project Participant Form (something that can capture basic biographical info about a person), etc.
Cataloging and Metadata
Templates
Metadata Worksheets (XLS)
Includes worksheets for Required and Recommended Fields, Omeka CSV Import, and Generic CSV Import.
Audio Conversion Kit Feedback Form (PDF)
Help & Support
General Kit Support
For questions about borrowing, delivery, or return of the kit, contact Kit Support at KitSupport@coloradovirtuallibrary.org.
Audio Conversion Support
For questions or assistance with the use of hardware, software, or documentation found within the Audio Conversion Kit, contact:
Amy Hitchner
Metadata and Integration Services Consultant
ahitchner@coloradovirtuallibrary.org