The Having Conversations @ the Library Resource Kit was created to give libraries the tools needed to host and facilitate community conversation programming and events. Inviting community members to visit the library for facilitated conversations demonstrates for our communities the way libraries serve as more than just storehouses for books. Hosting community conversations at your library will signal to your community that they belong in the library, that they matter, and that you center them in your work. Libraries can be where strangers meet and realize that they're neighbors. Libraries can be where people become the resource, not just the people who use the resources. Libraries can be where connections form, and where relationships blossom into broader understanding, care, compassion, and civility.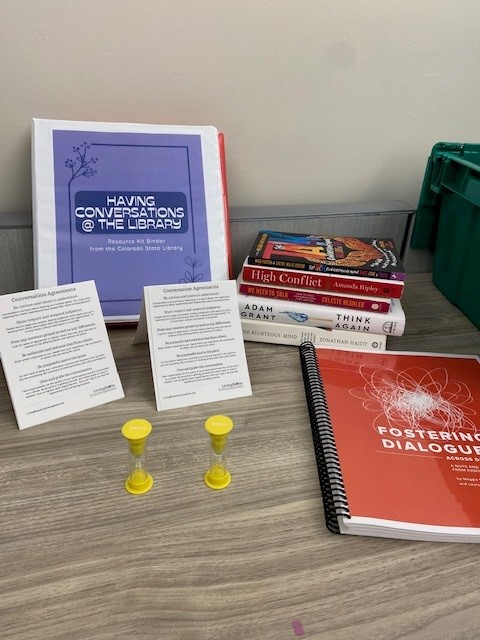 Contents
Green key shaped USB "flash" drive
Resource Kit binder – Documents for each of the following are contained within a plastic folder. The materials can be copied but must be returned with the kit.

Activity: Reading about Talking (Book Discussion Group)
Activity/ Library Program: Preparing for the Family Gathering (Program)

Two Living Room Conversations card decks (not to be checked out or loaned)
Conversation Agreement
Great Gatherings Conversation Guides

Family & Friends Tip Sheet
Building Better Conversations
Talking about Race
Connecting across Generations
Sharing Hopes & Aspirations
Exploring Current Events

Resources: Living Room Conversations

Living Room Conversations + Libraries Flyer
Consultation Card
Planning a Living Room Conversation
Conversation Agreement Table Tent (master copies)
Unpacking Conversation Agreements
Conversation Topics Guides

Communicating with Care
Belonging
Weaving the Social Fabric
Social Identity
Empathy

Community Conversations Checklist
Sample Communications Plan

Resource: American Library Association Libraries Transforming Communities – Facilitation Skills Guide (3 copies)
Resource: Worksheet – Colorado-based Resources
Resource: Let's Talk! Learning for Justice Conversation Guide

Community conversation tools

Five Conversation Agreement Table Tents (printed on card stock, ready to use)
Two 3-minute sand timers

Books

The Talk: Conversations about Race, Love, & Truth; edited by Wade Hudson and Cheryl Willis Hudson
High Conflict; by Amanda Ripley
We Need to Talk: How to Have Conversations that Matter; by Celeste Headlee
Think Again; by Adam Grant
The Righteous Mind; by Jonathan Haidt
Fostering Dialogue across Divides: A Nuts and Bolts guide from Essential Partners (spiral bound); by Maggie Herzig and Laura Chasin

Clipboard with evaluation form to complete (we really want your feedback)
Resources
Library Partner Page
https://livingroomconversations.org/libraries/
Libraries are perfect venues for the Living Room Conversation events and the organization has library-specific resources and a library partner to help plan and host an event. Contact information is available for Annie Caplan, a former librarian and the official Library Partner.
Host Toolkit
https://livingroomconversations.org/host-toolkit-choose-a-topic/
This page and resources within it outline the roles of a Living Room Conversation host and provide an overview of expectations, steps, and tips for hosting an event. Resources are linked throughout.
Planning a Living Room Conversation Guide
https://209859-635214-1-raikfcquaxqncofqfm.stackpathdns.com/wp-content/uploads/2018/09/Planning-a-Community-Living-Room-Conversation.pdf
A 7-page downloadable guide for planning a community conversation in the style of Living Room Conversations. Two models of conversations are explored: a small group (4-6 people) conversation setting and a conference-style setting (much larger group). The linked tools on this Resources section of the "Having Conversations @ the Library" binder and printed out in the Resource Kit can support the steps and actions listed through this planning guide.
Conversation Topic Guides
https://livingroomconversations.org/topics/
Living Room Conversation provides dozens of guides on topics of interest ranging from the controversial to the not-so-controversial. Topics include Abortion, More Curious & Less Furious, Power in Relationships, Race and Faith Communities, Social Equity, Universal Basic Income, Voting in America, and more. The topic guides can be distributed to participants during their small group conversations and include time limits, ideas for prompts and redirection, and other useful tips for talking and listening. No one needs to be an expert on any topic to have a conversation about it. The guides are not instructional materials on topics, they are supportive guides for having conversations with others.
Unpacking the Conversation Agreements
https://209859-635214-1-raikfcquaxqncofqfm.stackpathdns.com/wp-content/uploads/2018/09/Unpacking-the-Conversation-Agreements.pdf
Each Living Room Conversation begins with the statement of conversation agreements that ensure a safe space for conversation among community members. The values of curiosity, respect, authenticity, and purpose are defined and described therein. This document can help facilitators and participants to understand the goals of a community conversation and the reasoning behind the conversation agreements they've asked to make at the start of the Living Room Conversation.
Canva Flyer Template (Canva)
https://www.canva.com/design/DAFPb3ZTlKA/WZL_aE3W6ltktAdU4Vo8nA/view?utm_content=DAFPb3ZTlKA&utm_campaign=designshare&utm_medium=link&utm_source=publishsharelink&mode=preview
This Canva flyer can be copied and modified for your use when promoting your Living Room Conversation event.
Communications Plan
https://docs.google.com/spreadsheets/d/1Cg9WjIyR99Mjy4kMxpDd_vekStpyu5-q25Y5aL7Q1IY/edit?usp=sharing
This Google Sheet can be copied and modified for your use when planning your Living Room Conversation event.
Press Release Template (Google Doc)
https://docs.google.com/document/d/1x8wzp5TU20gyJGQDF-Sw1HsyKLuzltq-/edit?usp=sharing&ouid=109233238661995448289&rtpof=true&sd=true
This Google Doc can be copied and modified for your use when promoting your Living Room Conversation event in various press and publications.
Community Conversations Checklist (Google Sheet)
https://docs.google.com/spreadsheets/d/1yv9vznHvoCN6w5Zf6TB1N_4rNQyFsmryWWhAprEoUUM/edit?usp=sharing
This Google Sheet can be copied and modified for your use when planning your Living Room Conversation event.
Feedback Forms (PDF)
https://209859-635214-1-raikfcquaxqncofqfm.stackpathdns.com/wp-content/uploads/2019/09/Feedback-PDF.pdf
This Feedback Form can be downloaded and printed out to distribute after the conclusion of your Living Room Conversation event.
Shifting Culture Through Conversation (YouTube)
In this video (YouTube), Joan Blades references 'The 3.5%' Rule' at the end of our conversation. Political scientist Erika Chenoweth at Harvard found that just this sliver of the population, if effectively mobilized through non-violent means, was enough to impact massive social change.
Great Gatherings – Family & Friends
https://livingroomconversations.org/great-gatherings/
From the Living Room Conversations page: "Holidays can be complicated, even without a pandemic, and conversations with family can be uniquely challenging. Emotional stakes tend to be higher, conversations are colored by history, and it can feel easier to rehash old arguments. But with a few tools and tips, holiday conversations with our family members, can be rich, meaningful, and even enjoyable." Included on this page is the "Friends and Family Guide" and conversation guides for talking about difficult topics with family and friends including: Talking about Race, Connecting Across Generations, Building Better Conversations, Sharing Hopes and Aspirations, and Exploring Current Events.
Other Community Conversation Resources
Social Topics Kits from the Colorado State Library
The CSL social topics kits were created to help public library staff within the state of Colorado better understand and serve traditionally under-served populations and to give staff the tools needed to host and facilitate critical community conversations, mending fences within the community. We hope that using the kits will help establish the library as a place for civil dialog in our communities. This kit ("Having Conversations @ the Library") is an all-inclusive conversations toolkit; but other kits in the social topics category are helpful in speaking to specific topics (i.e., LGBTQIA+ identities and needs, homelessness, etc.).
National Institute for Civil Discourse
Founded at the University of Arizona in 2011, the NICD's Key Principles are: "Engaging in conversations across the divide opens doors to finding common ground and moves our country toward a more perfect union. Our programs convey several key principles and best practices that are critical to connecting across divides, including: Empathy instead of vitriol; Listening for Understanding instead of hearing to overpower; and Humility instead of all-knowing." NICD offers webinars for people who work in community service and for the public. Their Engaging Differences video series can be used to support library programming https://engagingdifferences.org/category/engaging-differences-video-series/
Essential Partners – Resources
https://whatisessential.org/resources
Essential Partners collaborates with civic groups, schools, faith communities, colleges, and organizations across the globe to build resilience, belonging, and trust across differences of values, beliefs, and identities. Through training in their "trademark approach," long-term support, crafting new programs, facilitating dialogue, and continuous research. The spiral bound guide in this resource kit is one of many resources they share, including many available online at this link.
Random Acts of Kindness
https://www.randomactsofkindness.org/
The Random Acts of Kindness organization provides resources for people of all ages in a variety of settings and contexts focused on their mission of "mak[ing] kindness the norm."
American Library Association Libraries Transforming Communities (E-Learning + Resources)
https://www.ala.org/tools/librariestransform/libraries-transforming-communities/online-learning
A robust resource including a free e-course on community conversations and libraries' roles and opportunities in providing a forum and space for doing so. A variety of library types and service areas are represented through the different learning materials, webinars, links, and resources. Tools including "Facilitation Skills Guide" (included in this kit) for "strengthen[ing] libraries' role as core community leaders and change-agents." Through supporting how libraries connect with their communities and community member, the Libraries Transforming Communities initiative hopes to "achieve a domino effect of positive results, including stronger relationships with local civic agencies, non-profits, funders and corporations, and greater community investment in civility, collaboration, education, health and well-being."
Center for Public Deliberation
From Colorado State University, the Center Public Deliberation writes: "Our aim is to improve the way our community is able to talk through complex issues so that we can arrive at better decisions. Deliberation requires open spaces for citizens to come together, good and fair information to help structure the conversation and skilled facilitators to guide the process. The CPD is dedicated to providing these three key ingredients to Northern Colorado."
Let's Talk! Learning For Justice Conversation Guide (PDF)
https://www.learningforjustice.org/magazine/publications/lets-talk
Learning for Justice – formerly Teaching Tolerance – focuses on K12 classroom and education materials developed through a social justice praxis and with the goal of embracing diversity of all kinds, exposing and nurturing intersectionality, and amplifying the contributions of figures (contemporary and historical) who are often overlooked in curriculum and communities. The Let's Talk! Conversation guide enables educators to facilitate discussions on sometimes difficult topics that students are interested in discussing. Though the guide is designed to be used in a classroom or education setting, they can be helpful for librarians and program facilitators who need guidance in how to facilitate discussions with empathy and are interested in curious self-reflection. Download the PDF from the page (link on the left "Let's Talk!") or view the webinars on discussing Black Lives Matter, Gender in the Classroom, and Race and Racial Topics for support. 
Downloadables
Preparing for the Family Gathering documents (PDF)
Living Room Conversations resources (PDF)
Facilitation Skills Guide from the ALA (PDF)
Let's Talk: Facilitating Critical Conversations with Students (PDF)