Over the course of three months, take your patrons on a storytelling journey that will help them with with their English language skills!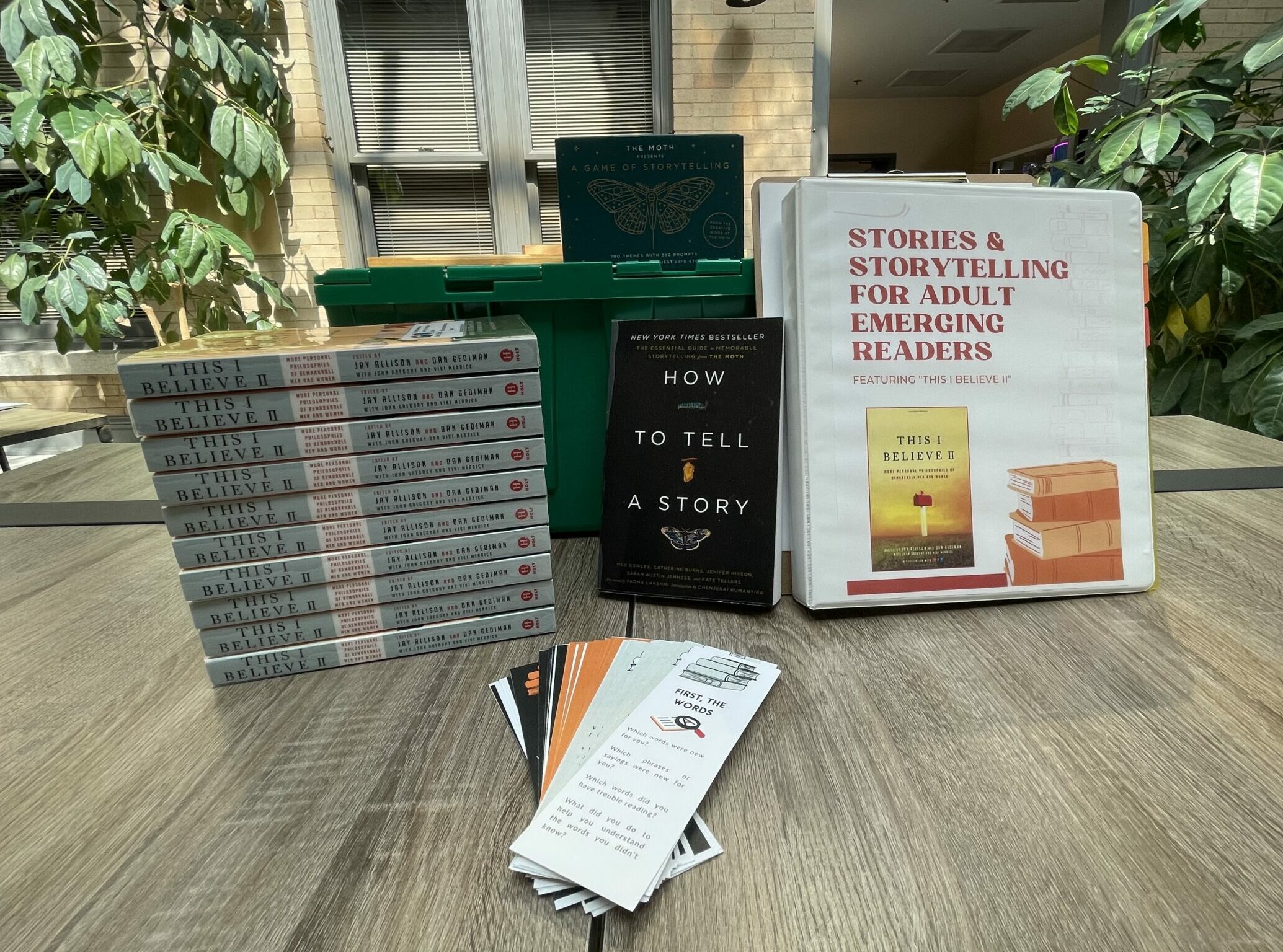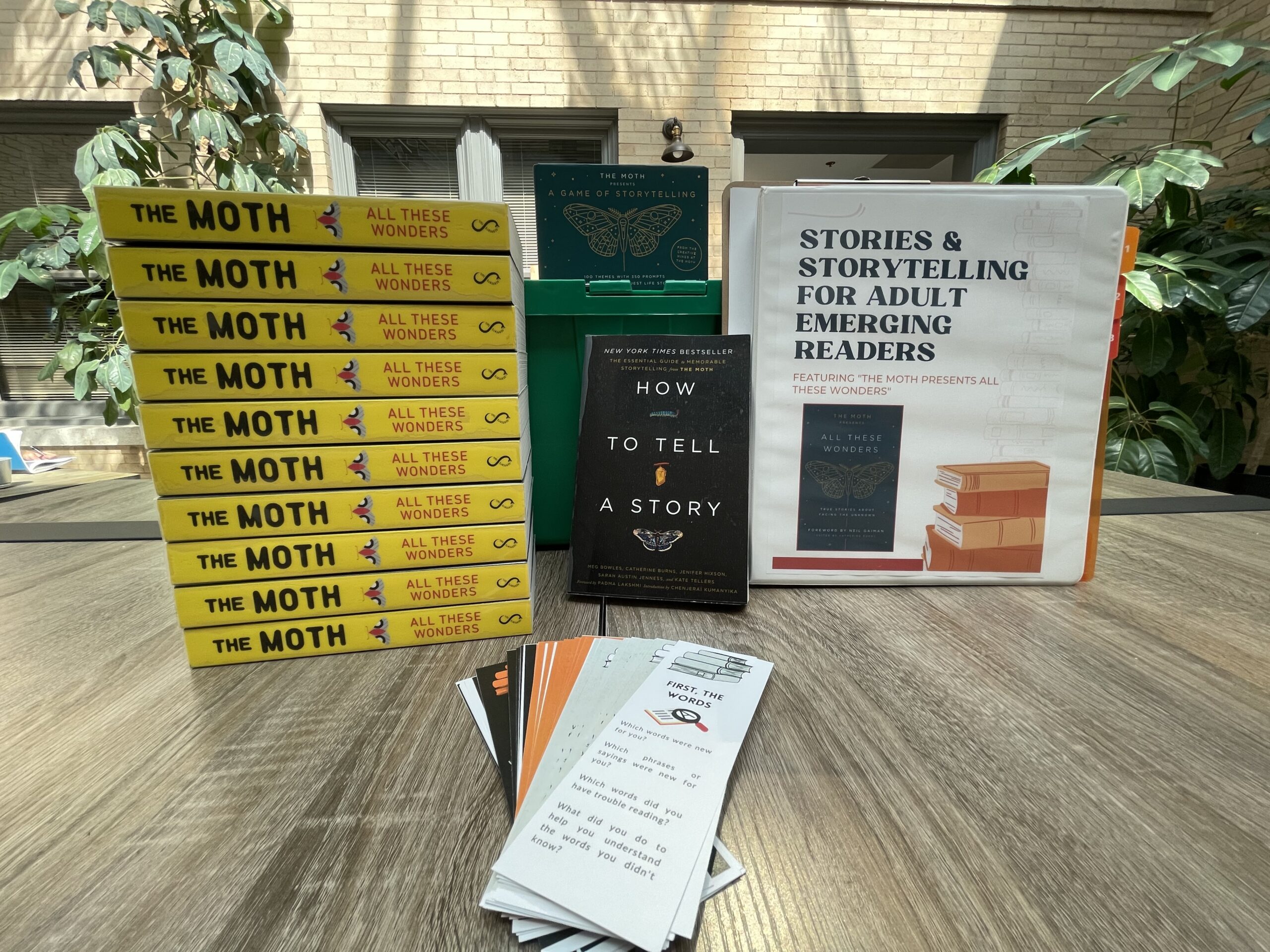 About
These two resource kits were developed from two distinct needs:
The need to support adults who are developing their English language skills (usually referred to as Limited English Proficient, or LEP, individuals) because English is not their first language and they are not in formal education settings where English language skills are taught.
The need to support adults for whom English is the first and, often, only language spoken but for whom literacy, reading fluency, and perhaps generally communication skills are not very strong. These adults are either unable to or uninterested in seeking formal education in college settings. They may not be interested in workforce readiness. These adults can have some underlying learning disability that perhaps was never diagnosed or these adults can have just never had the desire to practice reading.
Each kit is intended to provide libraries three things:
A book club/ book discussion group set for your library (10 copies for patrons to borrow over their time as a program participant)
A recommended program outline and additional materials for each of the included programs (there are three programs included in this kit)
Ideas for doing something else entirely! or for expanding the activities
Audience
This kit is meant to be a starting point to help libraries reach and support different populations within their communities. It includes activities for adults experiencing intimidation, fear, or anxiety about their literacy skills, reading fluency, or English language speaking skills
Loan period
The usual loan period for all our kits is 8 weeks, but due to the programming contained in these specific kits the loan period has been extended to three months.
Contents
Resource Kit binder
Key shaped USB drive
Program: Reading Stories Like Ours

"First the Words/ Then the Ideas" Bookmarks for participants to take and keep
Bookmarks double-sided master copy

Program: Storytelling with Pictures

"Storytelling with Pictures" full presentation

PPT slides print out in folder
Full presentation PPT in USB

Excerpt from Kindred by Octavia Butler
Blank comics pages
Drabbles collection

Program: Building Our Own Story

Blank comics pages
Game/ Boxed Card Deck: Moth: A Game of Storytelling

Resources: Storytelling
Either:

Kit 1's chosen book: This I Believe II (10 copies); or
Kit 2's chosen book: The Moth Presents: All These Wonders (10 copies)

Book: How to Tell a Story (from The Moth) – 1 copy, for reference/ program facilitator use
Clipboard with evaluation form to complete
Downloads
Kit 1 (This I Believe II) Binder
Kit 2 (The Moth Presents: All These Wonders) Binder
Additional Resources
The Moth
The Moth is a storytelling program, venue, and format that is broadcast on public radio as well as other media including podcasts. The Moth features performances from storytellers of all kids – that is, professional storytellers like Neil Gaiman and comedians like Hasan Minaj and amateur storytellers like… anyone you've ever met. All of the stories featured on The Moth are true, personal stories. Some are funny. Some are heartbreaking.
The Moth's website has several resources relevant to libraries and storytelling programs. The website is a portal to: The Moth story repositories (relevant performances linked throughout the program "Reading Stories Like Ours" in the resource kit that includes The Moth Presents All These Wonders), a list of live storytelling events https://themoth.org/events (Colorado has four locations listed: Breckenridge, Denver, Fort Collins, and Boulder at the time of writing this), educator resources (e.g., K12/ school-centered programming and resources), and community partners page https://themoth.org/community. The Moth has published collections of stories and a book How to Tell A Story: The Essential Guide to Memorable Storytelling.
This I Believe
This I Believe is a project that features essays written by (and performed by, in the case of audiobooks and other recordings) people of all ages and "all walks of life… about the core values that guide their daily lives" (This I Believe). Essays include personal stories and defining moments that exemplify those values or how those values hold relevance to the writer. This I Believe essays have been featured on public radio and in book collections including the This I Believe II book that is included in the "Reading Stories Like Ours" program in the resource kit that includes that title.
This I Believe's website includes resources that support library programming and include educator tools for teaching essay writing and writing personal statements. The Lifelong Learners Curriculum PDF found on the Educators page can be useful for libraries engaging in community programming like the programs included in this kit https://thisibelieve.org/educators/ . The website also includes a repository of essays https://thisibelieve.org/search/ .
StoryCorps
StoryCorps is a well-known storytelling program that is featured regularly on public radio and is available on various audio platforms including podcasts and in video across a variety of platforms including YouTube, Instagram, Facebook, and other social media where videos are posted. Videos are sometimes animated with the original storyteller's voice playing over the animation. The stories featured by StoryCorps are told in conversation, from the storyteller to the listener, often a friend or family member of the storyteller. All stories are real-life stories. Some are heartbreaking. Some are funny. From their website: "StoryCorps is committed to the idea that everyone has an important story to tell and that everyone's story matters. Our mission: to help us believe in each other by illuminating the humanity and possibility in us all — one story at a time." The StoryCorps website includes a repository of stories https://storycorps.org/stories/ and can be filtered for medium: audio only ("podcast") or animation. Stories are recorded and archived in the Library of Congress. StoryCorps can be engaged in many ways by communities, including by inviting the StoryCorps mobile to come to communities to record stories on-site. Tools for doing recording stories can be found on the Participate webpage https://storycorps.org/participate/ . Colorado State Library resource kits include a podcast recording technology kits that can support in this effort https://cslkits.cvlsites.org/digitization-kits/#storytelling