This kit is meant to be a starting point to help libraries reach and support people who were formerly incarcerated, people learning about the experience of transitioning from prison or jail back to the community, and library staff serving these and other relevant populations within their communities. It includes several books for both adults and young adults, activities and programs that will help the community learn about and discuss incarceration as well as resources that will help library staff serve library users who were formerly incarcerated.
There are several activities for those who have not experienced incarceration. This kit will offer new ideas for book clubs and story times that help discuss incarceration topics with children, teens, and anyone in your community.
Also included in the kit are resources for library staff to review programming ideas and best practices for serving formerly incarcerated people as well as books to consider adding to your collection to create windows and mirrors for your community. Key to this kit are resources to help your library facilitate a community conversation.
Audience
People who were formerly incarcerated
Programs and activities for those transitioning from incarceration to your community, including telling their story, dialoguing with the community, and receiving resource lists and information about local assistance services.
We have also included books in this kit that represent the kind of materials that libraries should consider including in their collections that supply valuable reentry information for formerly incarcerated people.
The Ex-Offender's Guides including:
The Ex-Offender's Job Interview Guide
The Ex-Offender's Reentry Success Guide
The Ex-Offender's Quick Job Hunting Guide
The Ex-Offender's New Job Finding & Survival Guide
Best Jobs for Ex-Offenders
Jails to Jobs : Seven Steps to Becoming Employed
Overcoming Barriers to Employment Success : The Key to Getting and Keeping a Job
People learning about the experience of transitioning from prison or jail to community
Participate in a facilitated transition simulation game
Take part in a community conversation
Create Transition Kits for distribution to people who were recently released from prison or jail
Participate in a book club event to read and discuss issue-related works
Participate in a discussion of an issue-related video.
We have also included books in this kit that could be part of a community conversation or can provide deeper discussion topics for these issues and represent the kind of materials that libraries can include in their collections.
Books focused on current policy and its impact:
The Ex-Prisoner's Dilemma by Andrea M. Leverentz
On the Outside by David J. Harding
Convicted and Condemned by Keesha Middlemass
Rethinking Incarceration by Dominique DuBois Gilliard
The New Jim Crow by Michelle Alexander
Homeword by Bruce Western
The Little Book of Restorative Justice by Howard Zehr
First-person narratives from justice-involved people about their experiences
Just Mercy by Bryan Stevenson
Becoming Ms. Burton by Cari Lynn and Susan Burton
Out of Orange by Clearly Wolters
The Upside of Fear by Weldon Long
American Prison by Shane Bauer
Internal staff
Learn how to create an environment that feels welcoming, informative, and supportive, including ideas for reducing policy barriers. Learn how to host conversations that explore public perceptions, help to debunk myths around incarceration, and strengthen community ties. Library staff can:
participate in a facilitated transition simulation game
review best practices for serving the formerly incarcerated
establish partnerships with community service providers
research local services for people who need them
create resource lists and maps for takeaway
organize, promote and facilitate a community conversation
organize and facilitate a book club event to read and discuss issue-related works
organize and facilitate discussion of an issue-related video.
Contents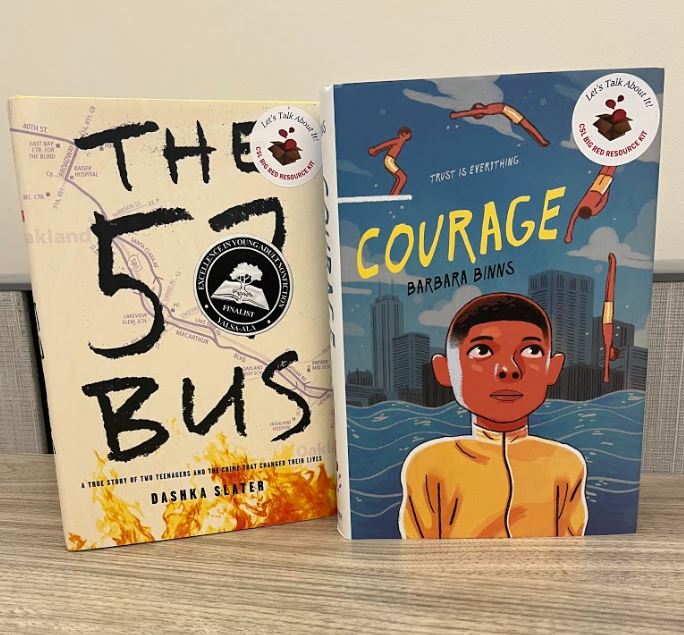 Resource Kit binder
Red key shaped USB drive
Quick Reads for Busy Librarians : Get inside : Responsible Jail and Prison Library Service Binder
Laminated 5 Quick Facts about incarceration and reentry
Library best practices for serving formerly incarcerated people
Activities & Programs

Overcoming Employment Barriers Board Game
In Your Hands: Life After Prison DVD
Parole Simulation
YA Book Club
Creating Welcome Packages
Tell Your Story
Children's Storytime

Sample books for young adults
Sample books for adults about reentry for formerly incarcerated people
The Ex-Offender's Guides including:

The Ex-Offender's Job Interview Guide
The Ex-Offender's Reentry Success Guide
The Ex-Offender's Quick Job Hunting Guide
The Ex-Offender's New Job Finding & Survival Guide
Best Jobs for Ex-Offenders
Jails to Jobs : Seven Steps to Becoming Employed
Overcoming Barriers to Employment Success : The Key to Getting and Keeping a Job
Streamables
Breaking the Cycle
Full version: https://arenan.yle.fi/1-3964779
This one-hour documentary dives deep into a comparison between the US prison system and the European carceral strategy and the impact each has on reentry and post-incarceration success.
Searching for Justice : Life after Lockup
PBS NewsHour's next hour-long special Searching for Justice: Life after Lockup focuses on the many challenges individuals face after incarceration from reconnecting with family, to finding work and housing, to staying out of prison or jail. (full documentary)
Welcoming Decarcerated individuals
https://sites.google.com/view/ready-access/toolkit-for-libraries/welcoming-decarcerated-individuals?authuser=0
A short video created by Ready Access for librarians about how to make sure that folks recently released from incarceration feel comfortable and welcome in the public library environment.
Booklists
One of the easiest ways to make formerly incarcerated people feel welcome at the library is to allow them to see themselves on the shelves by purchasing books that are about incarceration and reentry. This will also help de-stigmatize the topic for your other library customers. Below is a non-exhaustive list of books that have incarceration and reentry as themes for you to consider adding to your library shelves. The titles in bold are included in the State Library Book Club Resource program with 8+ copies available for 2 month loan.
Adult Nonfiction
A Colony in a Nation by Christopher Hayes. 2018.
After Prison : Navigating Adulthood in the Shadow of the Justice System by David J. Harding. 2020.
A Knock at Midnight : a Story of Hope, Justice, and Freedom by Britany K. Barnett. 2020.
Anatomy of Injustice : a Murder Case Gone Wrong by Raymond Bonner. 2012.
Are Prisons Obsolete? by Angela Davis. 2003.
Becoming Ms. Burton : From Prison to Recovering to Leading the Fight for Incarcerated Women by Susan Burton. 2017.
Beyond Survival : Strategies and Stories from the Transformative Justice Movement by Leah Lakshmi Piepzna-Samarasinha. 2020.
Blood in the Water: the Attica Prison Uprising of 1971 and its Legacy by Heather Ann Thompson. 2017.
Burning Down the House : the End of Juvenile Prison by Nell Bernstein.
Felon : Poems by Reginald Dwayne Betts. 2019.
Free Cyntoia : My Search for Redemption in the American Prison System by Cyntoia Brown. 2020.
Halfway Home : Race, Punishment, and the Afterlife of Mass Incarceration by Reuben Jonathan Miller. 2021
Homeward : Life in the Year after Prison by Bruce Western. 2018.
Just Mercy : a Story of Justice and Redemption by Bryan Stevenson. 2014.
Life Sentences : Writings from Inside an American Prison by Ralph Bolden. 2019.
Marking Time : Art in the Age of Mass Incarceration by Nicole R. Fleetwood. 2020.
New Jim Crow : Mass Incarceration in the Age of Colorblindness by Michele Alexander. 2019.
Out of the Red : My Life of Gangs, Prison, and Redemption by Christian L. Bolden. 2020.
Prison by Any Other Name by Maya Schenwar. 2021.
Pushout : the Criminalization of Black Girls in Schools. 2015.
Solitary : Unbroken by Four Decades in Solitary Confinement : My Story of Transformation and Hope by Albert Woodfox. 2021.
The Color of Law : a Forgotten History of How Our Government Segregated America by Richard Rothstein. 2018.
The Prisoner's Wife : a Memoir by Asha Bandele. 1999.
The Sun Does Shine : How I Found Life, Freedom, and Justice by Anthony Ray Hinton. 2018.
United States of Grace : a Memoir of Homelessness, Addiction, Incarceration, and Hope by Lenny Duncan. 2021.
Adult Fiction
An American Marriage by Tayrari Jones. 2018.
Blacktop Wasteland by S. A. Crosby. 2020.
Hole in My Life by Jack Gantoss. 2002.
On the Yard by Malcolm Braly. 1967.
Riots I Have Known by Ryan Chapman. 2019
Rita Hayworth and Shawshank Redemption by Stephen King. 982.
Sing, Unburied Sing by Jesmyn Ward. 2017.
The 25th Hour by David Benioff. 2000.
The Graybar Hotel by Curtis Dawkins. 2017.
The Green Mile by Stephen King. 1996.
The Keep by Jennifer Egan. 2006.
The Mars Room by Rachel Kushner. 2018.
The Nickel Boys by Colson Whitehead. 2019.
The Right Mistake by Walter Mosley. 2008.
Young Adult Books
Allegedly : a Novel by Tiffany D. Jackson. 2018.
Buck : a Memoir by Molefi K. Asante. 2013.
Cuz by Danielle S. Allen, 2018.
Dear Justyce by Nic Stone. 2020.
Fighting Words by Kimberly Brukaer Bradley. 2019.
Fist, Stick, Knife, Gun : a Personal History of Violence by Jamar Nicholas. 2010.
Invisible Man, Got the Whole World Watching : a Young Black Man's Education by Mychal Denzel Smith. 2017.
Lockdown by Walter Dean Myers. 2010.
Monster by Walter Dean Myers. 2020.
Punching the Air by Ibi Zoboi. 2020.
Rikers High by Paul Volponi. 2002
Ruby on the Outside by Nora Raleigh Baskin. 2015.
They Called Me 299-359 : Poetry by the Incarcerated Youth of Free Minds by Free Minds Writers. 2020.
Yummy : the Last Days of a Southside Shorty by Greg Neri. 2011.
Children's Books
All Kinds of Families by Norma Simon.
Almost Like Visiting by Shannon Ellis. 2016.
Anna's Test by Whitney Q. Hollins. 2019.
But Why is Daddy in Prison? and But Why is Mommy in Jail? by Erika Ruiz.
Day We Visit Daddy in Prison by Cindy Similien. 2020.
Deena Misses Her Mom by Jonae Haynesworth. 2017.
Far Apart, Close in Heart by Becky Birtha. 20174.
From the Desk of Zoe Washington by Jane Marks. 2020.
Hooray! Hooray! Dad's on His Way by LaShelle White-Corley. 2015.
Kennedy's Big Visit by Daphne Brooks. 2015.
Knock, Knock : My Dad's Dream for Me by Daniel Beaty. 2013.
Kofi's Mom by Richard Dyches. 2016.
Mama Loves Me From Awayby Pat Brisson. 2004.
Milo Imagines the Worldby Matt de la Peña. 2021.
Missing Daddy by Mariame Kaba. 2018.
My Daddy's in Jail by Anthony Curcio. 2015.
The Night Dad Went to Jail : What to Expect When Someone You Love Goes to Jail by Melissa Higgins. 2011.
Our Moms by Q. Futrell. 2015.
The Night Dad Went to Jail : What to Expect When Someone You Love Goes to Jail by Melissa Higgins. 2011.
The Same Stuff as Stars by Katherine Paterson. 2002.
Sing, Sing, Midnight by Emily Gallagher. 2016.
Visiting Day by Jacqueline Woodson. 2002.
When Andy's Father Went to Prison by Martha Whitemore Hickman. 1990.
Other Booklists on this topic
Websites
Volunteers of America Correctional Reentry Services – www.voa.org/correctional-re-entry-services
Services include halfway houses and work-release programs, day reporting, diversion and pre-trial services, residential treatment, family supports, and dispute resolution and mediation services.
National Reentry Resource Center – www.nationalreentryresourcecenter.org
Funded and administered by the U.S. Department of Justice's Bureau of Justice Assistance (BJA), the National Reentry Resource Center (NRRC) is the nation's primary source of information and guidance in reentry.
Jails to Jobs – www.jailstojobs.org
Jails to Jobs is a nonprofit organization that gives previously incarcerated and soon-to-be-released people the tools they need to find employment including free work clothes and a searchable directory of free and low-cost gang tattoo removal programs across the US.
Career One Stop – www.careeronestop.org
Career One Stop is a national job search page for formerly incarcerated people with local and regional search options.
Prison Policy Initiative – www.prisonpolicy.org
Prison policy initiative is a non-partisan nonprofit organization that produces research and advocacy at the center of the national conversation about criminal justice reform and over-criminalization.
The Sentencing Project – www.sentencingproject.org
The Sentencing Project advocates for effective and humane responses to crime that minimize imprisonment and criminalization of youth and adults by promoting racial, ethnic, economic, and gender justice.
Free Minds Book Club and Writing Workshop – https://freemindsbookclub.org/about-us/resources-for-incarcerated-people/
Free Minds Book Club & Writing Workshop uses the literary arts, workforce development, and violence prevention to connect incarcerated and formerly incarcerated youths and adults to their voices, their purpose, and the wider community.
Colorado Reentry Resources
Remerg – www.remerg.org
Remerg works to connect people to community resources that help them realize their potential after getting out fo jail or prison by fostering connections to hundreds of resources and empowering people with advice and examples on navigating and accessing help.
Wagees Colorado – www.wageesco.org
WAGEES stands for 'work and gain education and employment skills.' This is a reentry community grant program mandated by law to provide funding to community-based organizations that support people returning from incarceration. Wagees is a one-stop-shop for all reentry needs and has an extensive list of trusted resources and community partners.
Colorado Criminal Justice Reform Coalition – www.ccjrc.org
CCJRC is a coalition of over 10000 individual members and 112 organizations who have united to stop perpetual prison expansion in Colorado through policy and sentence reform. Chief areas of service include drug policy reform, women in prison, racial injustice, the impact of incarceration on children and families, the problems associated with re-entry and stopping the practice of using private prisons in our state.
Second Chance Center – www.scccolorado.org
The Second Chance Center offers care management, mentoring, and vital resources to assist formerly incarcerated people in reestablishing their lives and becoming successful members of the community.
Community Re-Entry Specialists – https://cdoc.colorado.gov/parole-and-re-entry-services
Community re-entry specialists (CRES) provide integrated case management and support services throughout the state to assist with removing barriers that interfere with successful transition including housing, transportation, clothing, hygiene, backpacks, work tools, employment training, and job placement.
StoryCorps – https://storycorps.org/participate/storycorps-app/
StoryCorps' mission is to preserve and share humanity's stories in order to build connections between people and create a more just and compassionate world. We do this to remind one another of our shared humanity, to strengthen and build the connections between people, to teach the value of listening, and to weave into the fabric of our culture the understanding that everyone's story matters. At the same time, we are creating an invaluable archive for future generations.
Facilitation Resources
Aspen Institute
The Aspen Institute Dialogue on Public Libraries provides access to an online community working together to address the transformation of public libraries in the digital age. Access the Action Guide, Version 2.0. Organized into three main modules—a Learning Pathway, Leading Pathway, and Implementing Pathway—to enable library and community professionals to commit to focusing on a specific set of objectives—one pathway at a time.
Harwood Institute
The Harwood Institute for Public Innovation teaches, coaches and inspires people and organizations to solve pressing problems and change how communities work together.
Public Conversations – Essential Partners
Essential Partners has worked for more than 25 years to facilitate conversations and equip people for difficult conversations. Their goal is to foster constructive dialogue where conflicts are driven by differences in identity, beliefs & values. They created the Fostering Dialogue Across Divides: A Nuts and Bolts Guide from the Public Conversations Project book.
Everyday Democracy: Ideas & Tools for Community Change
Everyday Democracy helps people and organizations build capacity to engage communities in creating change. They created the guidebook Organizing Community-Wide Dialogue for Action & Change Everyday Democracy
The World Cafe: Shaping Our Futures Through Conversations That Matter
Using seven design principles and a simple method, the World Café is a powerful social technology for engaging people in conversations that matter, offering an effective antidote to the fast-paced fragmentation and lack of connection in today's world. They created the guidebook Café to Go! A Quick Reference Guide for Putting Conversations to Work, World Café
At The Table Colorado
At the Table Colorado (ATTC) brings people from all walks of life together, during the same week, to participate in a series of free community-wide conversations about what makes their neighborhoods/communities/regions great and what can be done to make them even better.
Downloadables
Templates
Community Resource Worksheet – Template (DOCX)