Some of the oldest and most popular games on the planet are rarely seen in the US. No longer miss out on a whole world of fun! From the immensely popular, to the relatively obscure, we wanted to create a kit that would enable you to host an international games event for the whole community. There are two international games kits in the collection, with each kit including a totally different set of games from around the world.
See below for full lists of all the games!*
Kit #1 Contents
Bagh Chal (Nepal)
Catan (Germany)
Chinese Chess aka Xiangqi
Cribbage (England)
Dara (West Africa)
Go, aka Baduk/Paduk (China)
Gonggi aka Korean Jacks/Nori
Il Gioco dell'Oca aka Game of the Goose (Italy)
Ludo – the English version of pachisi (India)
Mancala (East Africa)
Mexican Train Dominoes
Mu Torere (Māori/New Zealand)
Quarto (France)
Royal Game of Ur (ancient Mesopotamia)
Senet (ancient Egypt)
Shogi (Japan)
Tombola, aka lottery/bingo (Italy)
Yutnori (Korea)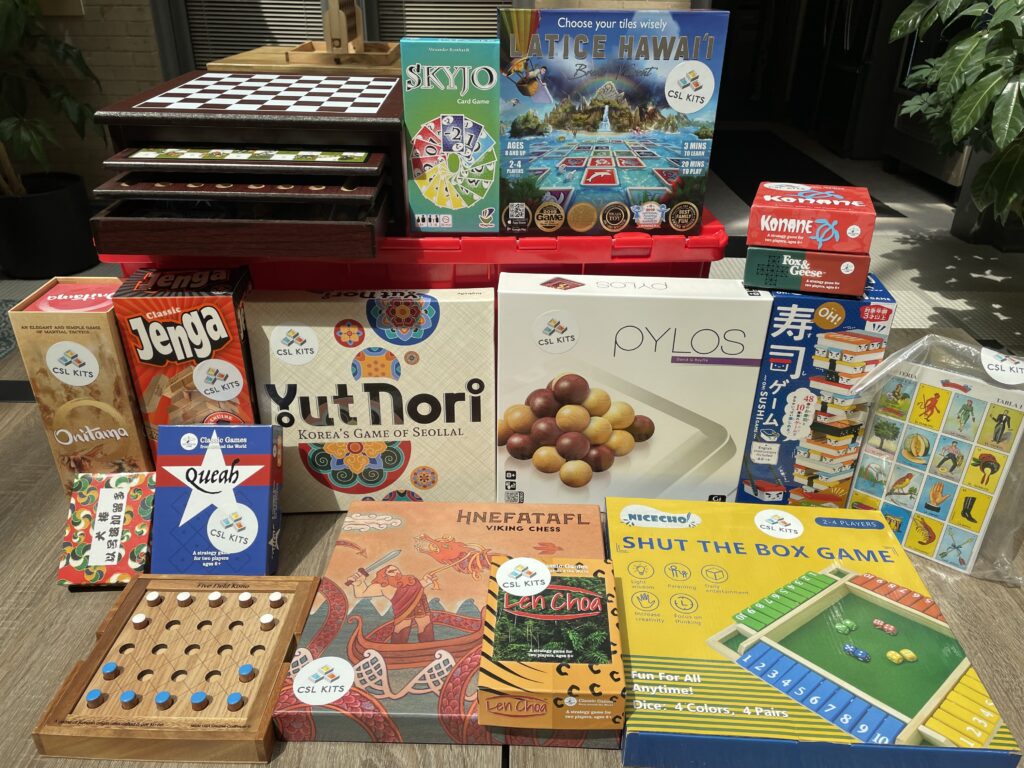 Kit #2 Contents
15-in-1 board games set

Checkers aka draughts (derived from ancient Mesopotamia)
Chess (India)
Chinese Checkers (China)
Parcheesi aka pachisi, an earlier version of Ludo (India)
TicTacToe aka naughts and crosses (thought to derive from ancient Rome)
Solitaire (Europe)
Snakes and Ladders aka chutes and ladders (India)
Mancala (East Africa)
Backgammon (England, derived from ancient Mesopotamia)
Poker dice (USA)
Standard playing cards (Europe)
Go Fish (USA, derived from older games)
Old Maid (UK, derived from older games)
Dominos (China)

Five Field Kono aka O-pat-ko-no (Korea)
Fox & Geese (Northern European)
Hnefatafl, aka Viking Chess (Scandinavia)
Jenga (African/British)
Karuta cards (Japan)
Konane, aka Hawaiian Checkers
Latice Hawaii (America)
Len Choa (Thailand)
Loteria (Mexico / Italian origin)
Oh! Sushi Game (Japan)
Onitama (Japan)
Pylos (France)
Queah (Liberia)
Shut the Box (Europe)
Skyjo (Germany)
Yut nori (Korea's Game of Seollal)
Games Instructions
We recommend www.cyningstan.com as the go-to place for resources on traditional games from around the world. The Traditional Board Game Series is a collection of leaflets which includes some of the games we've included in the kits: http://www.cyningstan.com/downloads/529/traditional-board-games-leaflets
Instructions are included with each game, but should any of them go missing, a simple Google search for the game title plus "instructions" should bring up some versions or official instructions.
*The countries or regions indicated in parentheses refer to where the games originated and should not be read as the only places these games are played.